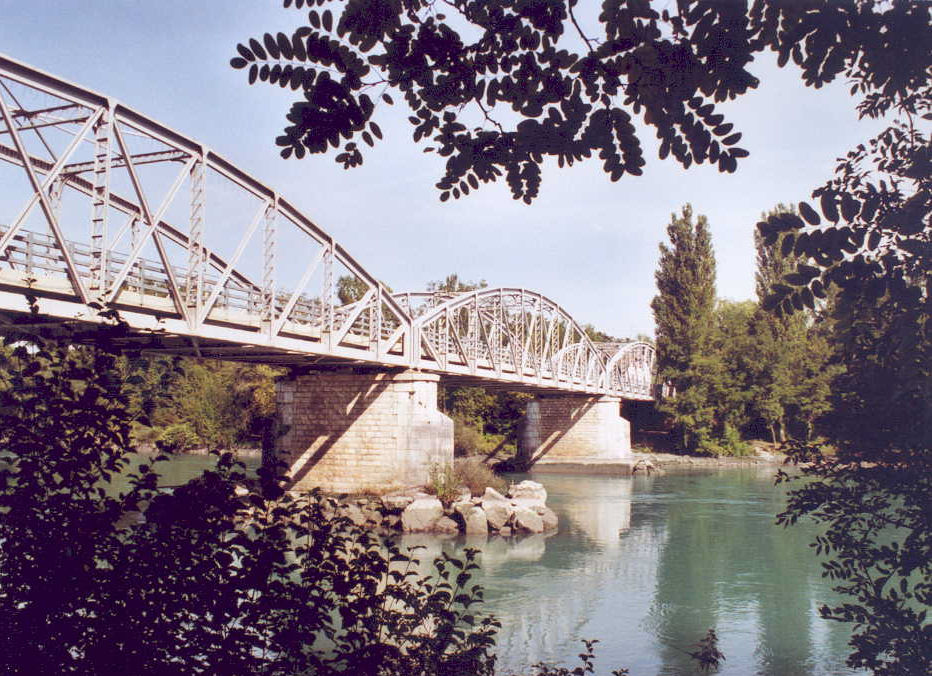 This week's best pic takes us a long ways back. How far back? To 2006 and my days in Geneva in Switzerland. For three months I did an internship in the field of Health and Nutrition at the World Health Organization. It was an internship that carried with it, lots of memories both at work as well as outside work, visiting the region of Geneva with my wife and friends that I made there- many of them I'm still in contact with to this day. It was also during this time, I embarked on a wide bridgehunting tour which included all of the greater Geneva area, as well as Lucerne and Berne- be it by bike (most of the time), by foot or sometimes by train.
This pic was taken on the banks of the River Rhone in the town of Chancy. Chancy is located at the very tip of Switzerland with much of the mountainous surroundings occupied by neighboring France. This bridge, a three-span bowstring arch through truss bridge with curved Parker truss features, carries the very last road that leaves Geneva (and Switzerland) and enters France. The truss bridge was built in 1907 replacing a wooden crossing. A border control booth was located on the Swiss side, together with the bus stop that ends at the bridge. Since there are no longer border controls at the bridge, a connecting regional bus to Bellegarde in France picks up the passengers before crossing the structure. The photo was taken on the French banks of the Rhone, where water levels were quite low during that summer. The bridge was found behind the trees with the mountains in the background. A picturesque shot which capped my day of biking along the Rhone.
This bridge was featured in a book written in 2005 on Geneva's bridges, albeit written in French. But sometime down the road there will be one written in German, Italian and English, to better understand how these structures, spanning the Rhone plus three other smaller tributaries, played a key role in the development of one of the most cosmopolitan cities in the world, the place where the international organizations got its start but are now scattered all over the place. The United Nations, which the WHO belongs to, had its headquarters in Geneva before moving to its current location in New York, yet other UN organizations still reside here.